Brandon Lewis abortion threat to Northern Ireland - "an attack on democracy and devolution"
Precious Life has slammed the NI secretary Brandon Lewis for ignoring devolution and taking power to override the Stormont Assembly to ensure more abortions are carried out in Northern Ireland.
The Westminster Parliament already forced abortion on Northern Ireland in 2019 through Section 9 of the 'NI Executive Formation Act'. Westminster's abortion legislation came into force in Northern Ireland on 31st March last year. Latest official figures released in February revealed that 1091 unborn babies have been killed since then. Last week a spokeswoman for the Westminster Government's Northern Ireland Office (NIO) said "We remain disappointed…" that more babies haven't been killed by abortion.
Director of Precious Life Bernadette Smyth said "Once again Westminster is attacking Northern Ireland's unborn babies, and attacking democracy and devolution."
"Westminster ignored the principles of democracy and devolution when they forced abortion on Northern Ireland in 2019 through Section 9. They used the excuse that the Stormont Assembly was suspended at that time. But now Brandon Lewis is directly interfering in a devolved matter when the Assembly is up and running."
Regardless of their views on abortion, every MLA in the Stormont should be outraged at this attack on devolution. We call on all our Assembly Members – if they sincerely believe in devolution - to oppose this move by Brandon Lewis. Those who don't and continue to sit in the NI Assembly are hypocrites."
She added, "The Westminster government is prepared to undermine devolution if it does not agree with how an administration is functioning. Even members of the Scottish and Welsh Parliaments should be in uproar at this move. If Westminster can ignore the principle of devolution for Northern Ireland, they can do it in Scotland and Wales"
Precious Life also condemned the 88 Westminster MPs - including the SDLP's Colum Eastwood and Claire Hanna, and Alliance's Stephen Farry - who have issued a letter supporting the attack on devolution. The letter was drawn up by pro-abortion extremist Stella Creasy, who brought the initial amendment in 2019 to kill unborn babies in Northern Ireland. The pro-abortion Westminster MPs state in their letter that it is "disappointing" that more babies in Northern Ireland haven't been killed by abortion.
Bernadette Smyth said "Colum Eastwood, Claire Hanna, and Stephen Farry should hang their heads in shame. These pro-abortion MPs even have the audacity to talk about human rights. In the matter of abortion, the only human right that is denied is the right to life of babies in the womb."
She concluded, "At this critical time when necessary and life-saving healthcare such as cancer treatments are being postponed – Brandon Lewis is giving priority to abortion in Northern Ireland. All through this covid pandemic we've been listening to his government preaching to us about saving lives. They are hypocrites! Not content with the killing of over 1091 little babies, they are now going to over-ride the Assembly and legislate to have even more babies killed. Our Repeal Section 9 Campaign will continue until the right to life and full legal protection is restored to every unborn child in Northern Ireland."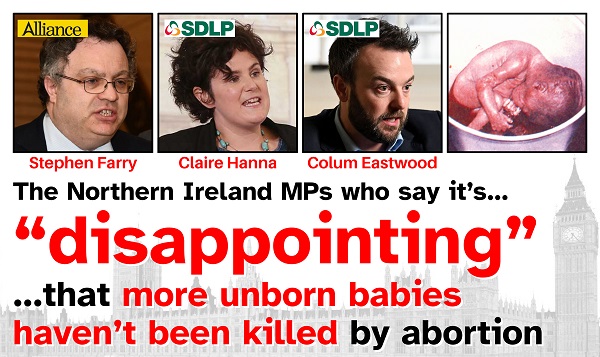 The 88 MPs who signed the letter calling for more babies to be killed by abortion in Northern ireland...