More pictures from our amazing Life Chains held across Northern Ireland
Check out more pictures from our amazing Life Chains held across Northern Ireland on Saturday, in remembrance of the 664 babies killed by abortion, and calling on our Assembly to REPEAL SECTION 9 and RESTORE PERSONHOOD for our unborn babies.

Seventeen LIFE CHAINS were held - in North & West Belfast; Derry City; Armagh City; Newry; Antrim; Ballymena; Coleraine; Keady; Lurgan; Limavady; Magherafelt; Holywood; Downpatrick; Enniskillen; Dungannon; and Omagh.

If you haven't already watched the video of our special event at the gates of Parliament Buildings at Stormont in Belfast, you can still view the livestream that was recorded on our Facebook page. Please LIKE and SHARE it so that the powerful speeches and testimonies are heard across the world.

Director of Precious Life Bernadette Smyth was the main speaker and introduced the special guests.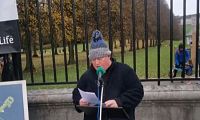 West Belfast priest, Fr Patrick McCafferty exposed Sinn Fein and SDLP as pro-abortion parties. He urged the Catholic bishops to have the courage to withhold communion to pro-abortion politicians. He said personhood has to be restored to our unborn babies, and "…for as long as they don't have a voice, they will have ours!"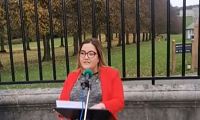 Stephanie McKittrick gave her testimony of how medical professionals offered her an abortion after her baby was given only 25-30% chance of surviving. She finished her uplifting testimony by quoting 2 Chronicles 7:14 – "If my people, which are called by my name, shall humble themselves, and pray, and seek my face, and turn from their wicked ways; then will I hear from heaven, and will forgive their sin, and will heal their land."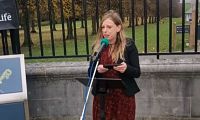 Edel Best spoke powerfully of her suffering and trauma after abortion. She said, "I truly believe, that with education and proper support services, we can eliminate the market for abortion."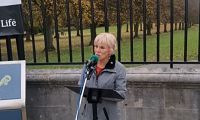 Retired GP, Dr Anne McCloskey from Derry, explained why abortion can "never ever be regarded as healthcare". She said, "We remember with sadness the 664 souls, but we move forward with hope …we will overturn these unjust, inhuman and anti-human laws"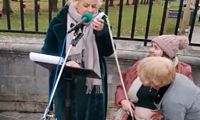 One of the highlights of the event was when a baby heartbeat monitor was held to the stomach of a young pregnant mother. After the heartbeat of the baby in her womb was amplified through the PA system, Bernadette quoted the words of William Wilberforce – the British politician and leader of the movement to abolish the slave trade - "You may choose to look the other way but you can never say again that you did not know."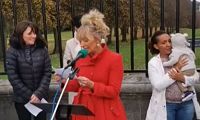 Alicea from Stanton Healthcare in Belfast spoke of the outstanding work they do across Northern Ireland . She also called on our Assembly Members to support and fund this unique ministry.
There were powerful and emotional testimonies from three 'Stanton Mums' - mothers who have been helped and supported by Stanton Healthcare.
'Stanton Mum' Yvonne shared her story of how she was helped and supported through a difficult time in her life. She said, "It was through the support and encouragement [from Stanton] that I got through such a scary time in my life, and I am so thankful to Jesus for them."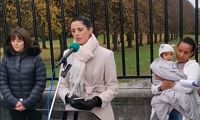 'Stanton Mum' Fiona shared her story of how Stanton helped her even after the birth of her baby. She said, "people in the pro-life movement get such a bad rap - that they only care about the baby in the womb. That's not true! Stanton provides services well into the mother's journey and well into the baby's journey. They provide much needed support and care whenever there's no support and care given by our healthcare services."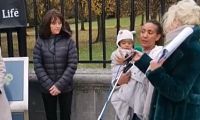 There wasn't a dry eye from anyone after hearing 'Stanton Mum' Usalem give her emotional testimony. Holding her little baby Noah, she said that meeting Stanton was "a miracle for me"
A big thank you to John and Patrick from Newry who provided the beautiful music.

Listen to the full speeches by clicking on the link to the video here...

Remember to like and share the video with all your family and friends.