Rally for Life BELFAST 2018 - Book your seat now!
7th July 2018
Parliament Buildings, Stormont, Belfast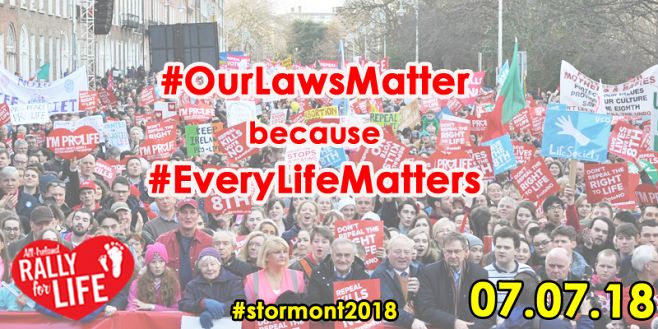 We need YOU at the RALLY FOR LIFE at this dark time in Irish History. Despite the "Yes to Abortion" vote in the Irish Referendum on the 8th Amendment, the fact remains that every unborn child still has the right to life. The Irish State no longer acknowledges the right to life of those who are "alive but not yet born" but the Constitution did not 'give' this right to unborn children - every person's right to life is inherent. We will continue our work to protect mothers and babies from abortion.

The result of the Referendum is also deeply worrying for the North of Ireland. The threat to unborn children in the North has now intensified more than ever. Pro abortion organisations are calling for the abortion of the North's unborn babies with the ominous threat - "The North is Next." The same tactics of lies and false information used by the 'Yes to Abortion' side in the Republic's Referendum, are now being used in Northern Ireland.

But we must continue to be a voice for unborn children when and wherever their lives are in danger.

So be there for this historic All Ireland Rally for Life on Saturday 7th July 2018 in Stormont Parliament Buildings in Belfast. It is vitally important that we all stand TOGETHER FOR LIFE and show the world that the pro-life movement in Ireland - NORTH and SOUTH - remains strong. We are still pro-life and proud!

There are buses travelling from all over Ireland to the Rally. Get in touch to find out details of your local bus!
CALL US now on 028 9027 8484 to book your seat to this historic pro-life rally or email us with your contact details and we will get back to you. It's time to stand up for our laws and send a strong message to politicians that#OurLawsMatter because every life matters!

See you on the 7th July! #rfl2018 #ourlawsmatter